1.Length of the veil and wedding dresses should be opposite
Now,there are many styles of veils. In fact, the veil as an important embellishment of the head, the first principle of choice is based on the wedding dresses style. The general principle is shifted with the length of the wedding dress.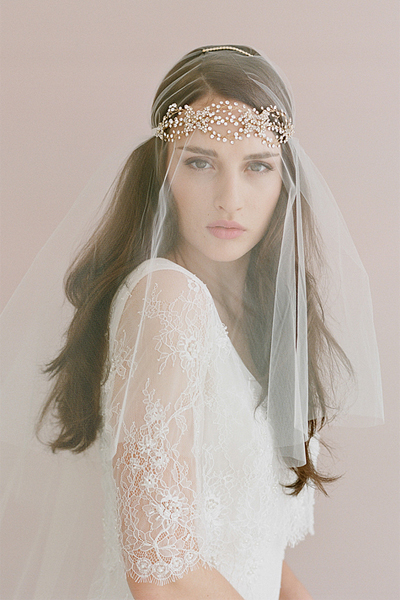 If you choose a long tail wedding dress, it is best not to use too long veil. Under normal circumstances, the decoration of long tail wedding dress is the waist, hips or less, these areas tend to have a lot of decorations,so long veil would cover priorities.
2.The multi-veil made face seem small,unilamellar have effect to elongated body 
As for style, the veil was divided into monolayer and multilayer. Both veil convey the feeling is completely different. For example, a short paragraph multilayer visual effect is ball.So it is more suitable for brides who is cute and petite.But it is worth recalling that, although this type could make your face smaller, but it is suitable for chubby bride.Because,it will appear on the upper part too, but the trade-off.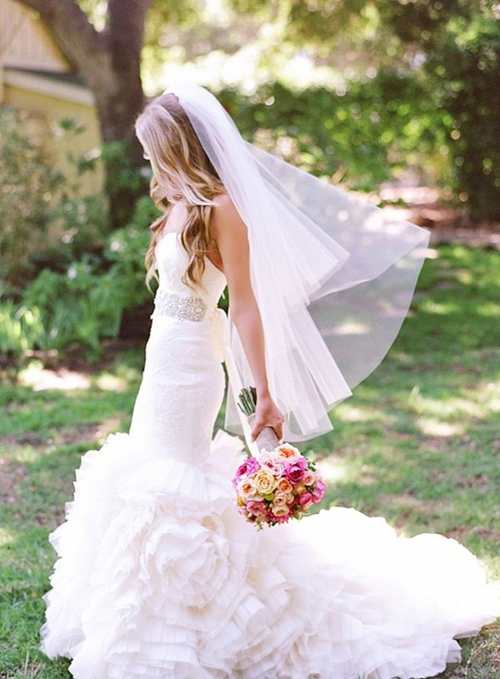 Single layer veil is the most common veil with less error-prone.It almost suitable for everyone. And is particularly suitable for voluptuous bride.And it has the effect to elongated body shape visually .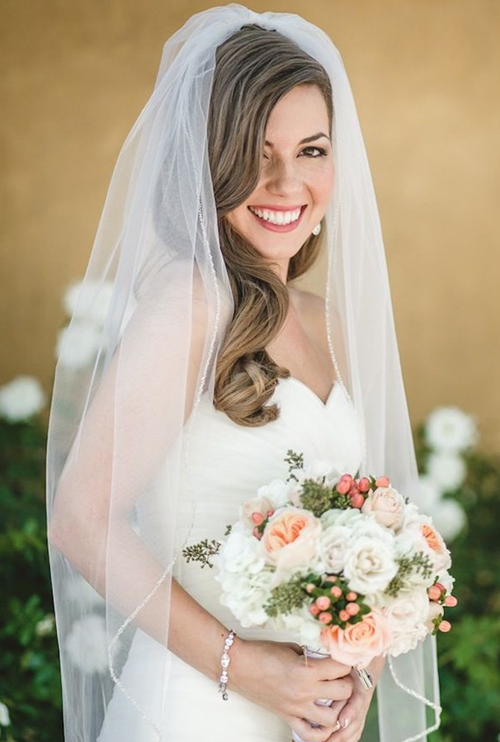 The hairstyle is also should be considered when choosing a veil. In general, if the hair is more complex, it is possible to select a simple style veil.And if your veil is complex, hairstyle should be concise, Mke the whole highlight on the veil.
For the bride, in fact, two styles of veil could be choose to have a try.Such as put together a morning wedding, they can choose some complex hairstyle, weakening the veil. The evening wedding, you can change a simple hairstyle accompanied by a solemn veil, seemed more formal.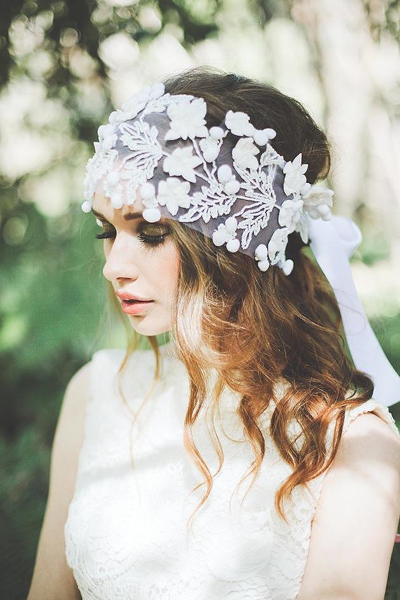 3. Lower hairstyle with lower veil
If you choose to a simple hair, then you would better wear the veil from head.So ,It is easy to create a feeling of princess. If you want to be a lady,a relatively low bun is a good chice.At the same time the veil also should be wore in a low position.Now, there is a very popular Hepburn head, namely in the head comb a packet header, this type of hair is suitable for wearing head yarn along at under contract.